Zachary receives a junior Player assessment offer for Olympiacos in Greece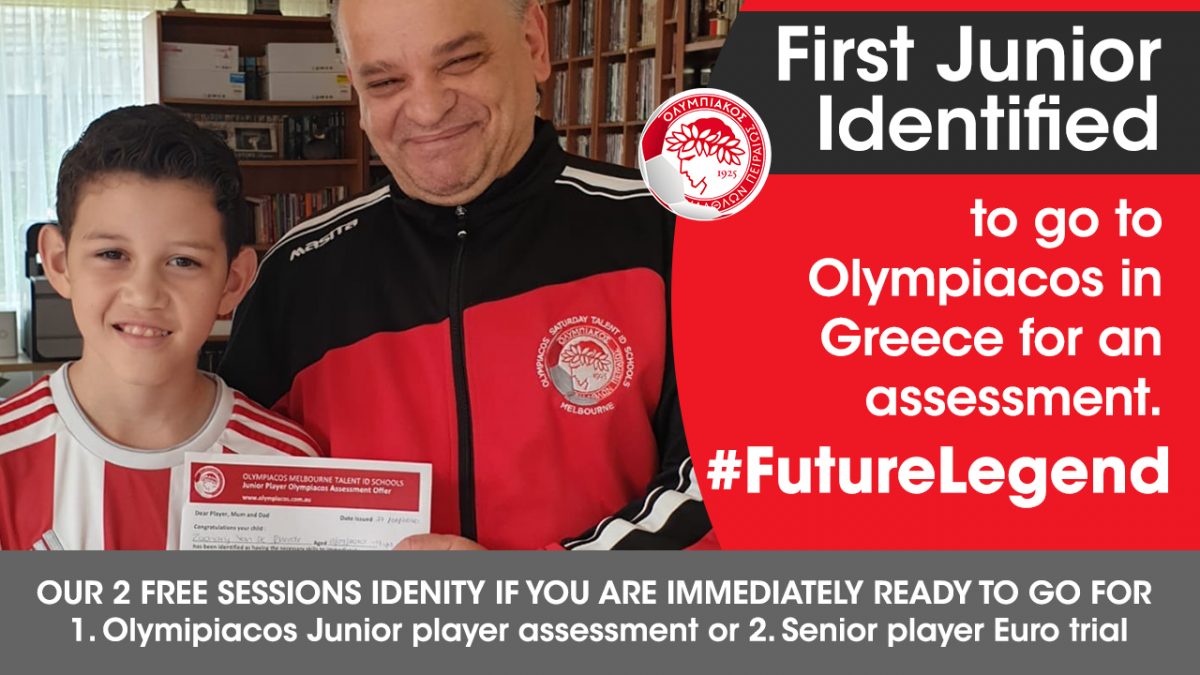 It is with great pleasure that we announce the identification and offer of a junior player assessment to Zachary.
Zachary's parents received and have accepted our offer for our annual trip to the Olympiacos FC Main training centre in Athens. Olympiacos' Renti training centre, currently sits within the top 30 European development programs.
Zachary, who currently plays for Dandenong City, has been identified to have the necessary skills to obtain the opportunity for an Olympiacos Junior player assessment. He will be travelling in September 2021 (pending international travel clearance), where he will be assessed by Olympiacos, which allows:
The opportunity for him to be noticed by a top level professional club in Greece;

Him to be reviewed and be potentially invited to return at 15 years old to complete his development as a professional player.
We'd like to thank Zachary and his parents for accepting this offer. We will continue to develop his skills at our Saturday Talent ID schools to better prepare him for next year.
At the start of this year, Zachary partook in our two free sessions, allowing us to identify his current skillset. Within 1 month of partaking in our program, Zachary showed noticeable improvement to both his parents and peers.
Our two free sessions are available to allow players to be identified whether they are currently ready for an overseas assessment.
In addition to creating a pathway for players who wish to pursue their elite career, the accessibility of this program also allows the players who desire to improve their game on a social or domestic level. All players, regardless of their ability levels, can remain at their existing club and train with us on a Saturday morning to further improve their skill levels.
We commit to improving the soccer landscape and sharing our knowledge for the overall growth of the sport.
To see whether you're ready for a European assessment, or would like to see how you can improve your game for a social or domestic level, book in for 2 free sessions at https://olympiacosfc.com.au/claim-free-sessions/ or call us on 8592 0162 (9AM – 5PM Mon – Fri)